One of the features in SharePoint 2013 that got me the most excited was the managed navigation integration with the term store.    When working with Office 365 deployments, oftentimes I would have the client utilize multiple site collections.    There are many reasons to do this.   Securing business data from externally accessible sites,   utilizing more of their paid disk space, delegating administration, or specific requirements from the governance process.   However, one concern I always had with multiple site collections was the global navigation between these site collections.   Each site collection, when created, acted like an independent island.    There was no way to bring the site collections into one cohesive structure that my end users could then maintain.    Not a solution – out of the box – anyways.
The idea of using the centrally administered term store was immediately appealing to me.   This eliminated a big customization step I was making for my customers.   However, I soon discovered this feature was not as easy to implement as may have seen apparent.
If you have followed instructions online, you may have encountered this message by now: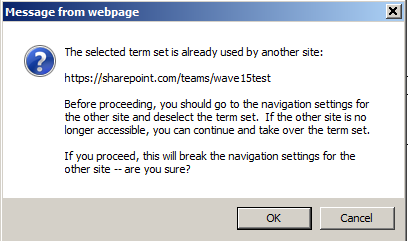 "The selected term set is already used by another site".    This happened to me when I tried to assign a second site collection to the same term set as my first site collection.   What does this mean?   Shouldn't I be able to assign two site collections to use the same term set?   Wasn't that the point of this feature?
Unfortunately I don't have an answer as to why that is not possible, however, I have found a workaround that will allow you to use the term set in the fashion you envisioned.   You will still be able to maintain all your site collection navigations from one place, and it will only require a little extra work at the startup.
What you will need to do is create a new term set group for each site collection you wish to display the navigation on.    Each of those <empty> term set groups will then pin the term set that you do maintain.
For example, let's say you have a Human Resources and Information Technology site collection you wish to share navigation between.   To do this you should create three term set groups.
Global Navigation – this is where the actual menu you will be stored.  You will also delegate administration to this menu if needed.
Information Technology – this menu will pin the contents of the Global Navigation
Human Resources – this menu will also pin the contents of the Global Navigation.
Let's start by going into the Term Store administration page on your tenant admin.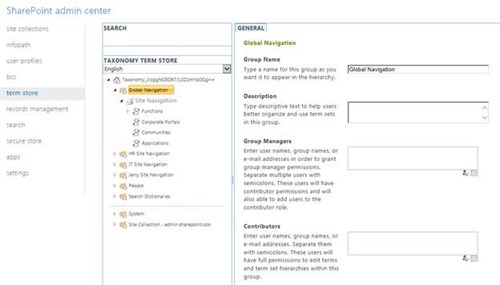 If you have tried to use the term store for navigation before, then you likely have already created a group and term set for navigation.   If you have not, go ahead and create that group and a term set now.   This will be for the menu that you will use for the sites.
Don't forget to enable your term sets for site navigation!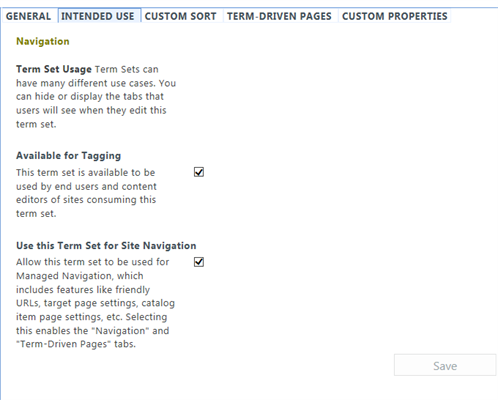 Also be sure that any links you create are set to show in the Global Navigation Menu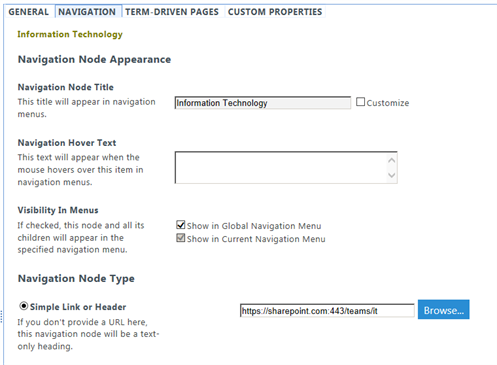 Once you have created your central Global Navigation term set, the next step is to create term set Groups for each Site Collection in your environment.   These groups will serve as the new destination points for your managed navigation settings, and allow you to skate around the error described above.
When you have created those groups, you will now have to pin the contents of the Global Navigation term store into those locations.   In my screenshots I had to pin 4 menu items into my new term set groups.
Functions | Corporate Portals | Communities | Applications.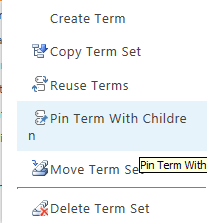 Once you have pinned the global navigation items into your new term set groups, you are ready to set your site collection managed navigation to these new groups.    Keep in mind that you will need to repeat this process for every new site collection you create in the future.   It isn't an ideal solution,  but it definitely beats custom code!